Weekly Wrap Up - Pancake Party
06 Jul 2016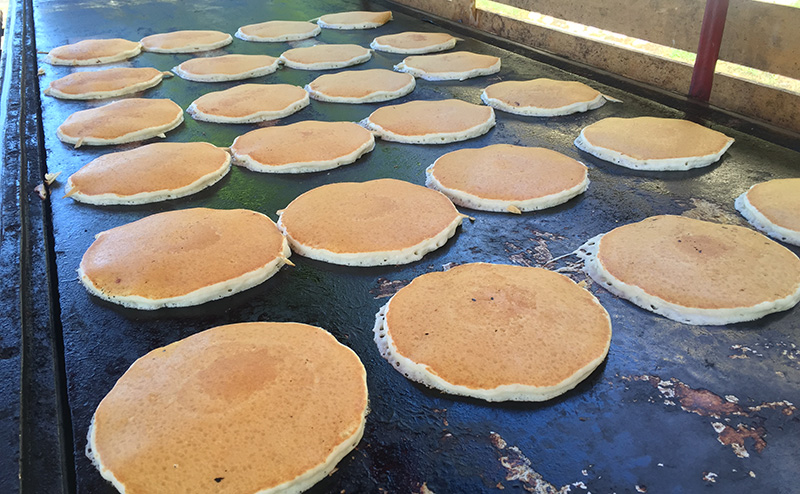 Mornin', kiddies. Did you receive the open-to-everyone birthday invitation from our mutual friend, America? We sure did. We think we may have seen you there, too, between our second servign of BBQ ribs with Lynyrd Skynyrd soundtracking our mastication. We were gonna come and say "hey", but you know--macaroni salad is a sweet, sweet seductress.
We imagine you celebrated America's birthday in a similar fashion to us—too many BBQs to attend with so little time and stomach space. Between all that eating, some of us felt a little ambitious and had a side of trail run or 14er-hike. Others of us opted for America's party favours and found a baseball game in our goodie bags. However you chose to celebrate, we hope that included some good food and awesome-but-legal pyrotechnic viewing.
Not to rub it in too hard, but hopefully some of you were able to celebrate an extended holiday like us, where your work week started on a Wednesday (today) with Sphero making you some sweet, buttery hotcakes. Yes, you read that correctly. The best part of waking up maybe a pancake in your cup. Or on a plate. Or even going au-natural out of your hand; all three are equally Instagram-worthy.
Seeing how delicious this morning was, we're thinking of celebrating America's birthday every week. Pretty sure robot productivity would go through the roof when fueled by post-party pancakes. There's probably some study conducted by the best scientists and Mrs. Butterworth backing that up.
I'm sure we can find it around here somewhere.
A Day In The Life: Claire Tindall
Q. Hi, there. To start this off, mind telling us your name and your title?
A. Claire Tindall, Sr. Director of Marketing and Communication.
Q. Hello, Claire. Can you tell us what exactly do you at Sphero every day?
A. I lead communication, marketing and event strategy for my teams around the globe. My people are spread across every region of the world and together we tackle all things media relations, social media, events and more.
Q. Spreading word around the globe. What advice can you give for someone looking to get into the PR and marketing world?
A. Be resourceful, solution-oriented and humble.
Q. Solid advice for anyone, I'd say. Can you share what you're currently working on or is it super secret?
A. Mostly secret, as my time these days is spent planning for our major product launches coming later this fall. What I can tell you is that we have a number of cool events on the horizon. Look for us across the pond at Star Wars Celebration in London next week and immediately following that, International Comic Con in San Diego.
Q. Two amazing places and two amazing events. Super jelly. As if that wasn't enough, what is your favourite aspect of working at Sphero?
A. Hands down, the people I get to work with. From my immediate team in Boulder to my partners around the world, I have the privilege of working alongside some of the most talented and brilliant people in this world.
Q. Which of our bots is your favourite in this world?
A. SPRK+ is my personal fave. I am constantly inspired by the creative ways educators and parents are using this bot with kids. Yes, this bot is intended to teach foundational coding and programming, but to see robotics integrated into the arts, music and literature is just so cool.
Q. Another win for SPRK+ in this office. What do you like to do outside of Sphero?
A. I'll keep it real here … I clock in as mom for my three year old son. With a career that requires travel for trade shows, media tours, etc., I try to prioritize work-life balance. Be it playing in the mountains or simply chasing a toddler around Costco, every weekend is a new adventure.
Q. I feel often feel like a toddler at Costco. Sample-sensory overload. Can you tell me your absolute favourite thing about living in Colorado?
A. I travel a lot for work. I love coming home to the Flatirons, fresh air and open space.
Q. Totally. The view never gets old. What place can you recommend I check out?
A. I survive mostly off of coffee. My go-to spot is ink! Coffee in Denver. I love the Aspen location, too.
Q. I'll add that one to my coffee-tasting list. Ok, one last question—tell me something about yourself that will blow my mind.
A. I once had lunch with Oprah.
ICYMI Top 5: